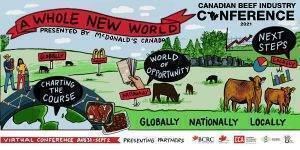 *Please note all times are in MST
TUESDAY – AUGUST 31, 2021 – CHARTING THE COURSE
8:45 AM – OPENING REMARKS
9:00 AM – KEYNOTE presented by UFA
Life Aboard the International Space Station – Dr. Robert Thirsk 
Dr. Robert Thirsk will share personal experiences of his six-month expedition aboard the International Space Station. Working within a collaborative and cross-cultural setting, Bob and his crew performed multidisciplinary research, robotic operations, maintenance and repair work. Bob will also describe his crew's launch aboard a Russian Soyuz rocket from Kazakhstan, their rendezvous two days later with the Station, their undocking six months later and return to Earth.
10:00 AM – BREAK
10:30 AM – PANEL
HOW DO WE MAKE CONNECTIONS? Presented by FCC
Seven out of 10 consumers have never been on a farm or ranch. Of the three out of 10 that have had the chance to visit an operation, 95% have had a positive experience. How can we increase consumer engagement to the primary producer? What can we as producers do?
FEATURING:
Cherie Copithorne-Barnes, CL Ranches
Gordon Dibble, Dibbhurst Farms, Ingersoll, Ontario, Oxford County
Influencer, TBD
Influencer, TBD
Moderator – Marty Seymour, Director of Industry Relations, FCC
12:00 PM – LUNCH FEATURE 
Some Beefy Lunch Ideas to Start the School Year off on the Right Track Presented by John Deere
What to make for lunch? Does this question feel like a dead weight sitting on your mind? If you struggle with making easy lunches that get eaten be sure to join the Canada Beef consumer culinary duo Joyce Parslow and Michele McAdoo as they demonstrate some new recipe ideas and tips on how you can turn last night's dinner into satisfying lunch solutions.  Sponsored generously by John Deere.
FEATURING:
Joyce Parslow Exec, Dir., Consumer Marketing
Michele McAdoo Exec. Dir., Digital Marketing
1:00 PM – WELCOME BACK
1:15 PM – COURSE
The Nuts and Bolts of Gate to Plate
The global COVID-19 pandemic has presented a number of challenges for many sectors, but it has also created a whole new world of opportunity for farmers and ranchers with an increased demand for local produce and proteins. This two-hour crash course will provide the nuts and bolts of how to develop a successful business plan to direct market beef to your friends, neighbours and communities.
FEATURING:
Cole Ambrock, Instructor, Lakeland College
Darla Stepanick, CPA, MBA, Lakeland College
1:15 PM – BREAKOUT 
Bov-Innovation- "While I've got you on the phone, Doc…" – Veterinary Telemedicine in the Field
The pandemic taught a lot of beef producers how to pivot and adapt to change quickly and the veterinary community is no exception. Telemedicine has been adopted by medical professionals to remotely treat and diagnose patients using telecommunication technology. This session will demonstrate benefits of virtual appointments, innovative strategies, and the future of telemedicine technology for veterinarians and farmers.
FEATURING:
Dr. Elizabeth Homerosky, DVM
Dr. Tommy Ware, DVM
Beef producer, TBC
6:30 – 9:30 PM – MNP CHARITY POKER TOURNAMENT
 WEDNESDAY – SEPTEMBER 1, 2021 – WORLD OF OPPORTUNITY
8:45 AM – OPENING REMARDS
9:00 AM – KEYNOTE presented by McDonald's Canada
Sustainability: Leveraging Local Solutions to Global Challenges
FEATURING:
Nicole Zeni, Senior Manager, Strategic Supply, McDonald's Canada
Tim Hardman, Global Sustainability Director, Fulton Market Group
10:00 AM – BREAK
10:30 – 12:00 PM – CATTLE CONVOS PRESENTED BY CARGILL
10:30 AM
Protecting Farmland and Food
Each year Canada loses 20,000 to 25,000 hectares of prime farmland to urban expansion. While urban development is important for our economy, protecting agricultural lands is equally important so that we can continue to supply Canadians with a local source of food. Not to mention the habitat for wildlife and healthy soils that pastureland and grasslands provide. During this chat, we will hear how farmers and ranchers can be a part of the solution to the urban-rural divide.
FEATURING:
Wayne Caldwell , PhD, RPP, FCIP
Professor, Rural Planning and Development School of Environmental Design and Rural Development University of Guelph
10:50 AM
Climbing the Summit
In fall 2021, the UN Secretary-General will convene a Food Systems Summit to kickstart ambitious new actions, innovative solutions, and plans to transform food systems. But what does this mean for Canadian beef producers? This presentation intends to provide clarity around the objectives and goals of the UN Food Systems Summit and the role of Canadian beef within it.
FEATURING:
Robynne Anderson, Director General, International Agri-Food Network (IAFN)
11:10 AM
From the Kitchen Sink to the Carbon Sink
Food Water Wellness Foundation is working with landowners to advance environmentally regenerative agriculture practices. These landowners are managing their land in a way that takes atmospheric carbon and stabilizes it in soil through biological processes. Their work may be one of the most significant tools in reducing net emissions and represent an untapped opportunity for cattle producers to develop a new income stream in the form of carbon offsets, while making their land more resilient to changing weather patterns.
FEATURING:
Kimberly Cornish, Director, Food Water Wellness Foundation
12:00 PM – AWARDS BANQUET
Join us as we announce the winners of the 2021:
The Canadian Beef Industry Award for Outstanding Research and Innovation
The Environmental Stewardship Award (TESA Award) – 25th Anniversary
1:00 PM – WELCOME BACK
1:15 PM – COURSE
AgriStability 101
High-level program overview session, plus a myth busting discussion with Quick Dick McDick.
1:15 PM – BREAKOUT
Canadian Beef Information Gateway – Shifting the retail meat purchase experience
The pandemic has forever changed the way consumers browse, shop, and buy food. Quick response (QR) codes and smartphones to place contactless take out orders at restaurants became increasingly important options out of necessity. The Canadian Beef Information Gateway optimizes the intersection of food and technology by using QR codes and bar codes to drive the purchase and enjoyment of Canadian beef. The program offers the ability to connect with consumers across three important stages – meal planning, point of purchase and meal preparation in home. The project pairs QR or bar codes with beef in the retail meat case and in grocery store print or e-flyers to enable a digital gateway to all things beef. Each beef cut profile will feature essential information including recommended cooking methods, food safety and storage information, written recipes, 'hands-in-pans" recipe videos, nutritional information and shopping lists. To learn how this unique retail meat case program was created, join Canada Beef's President Michael Young as he presents the consumer research, program development and execution of this exciting new way to purchase Canadian beef.
FEATURING:
Michael Young, President, Canada Beef
THURSDAY – SEPTEMBER 2, 2021 – WHAT'S NEXT
8:45 AM – OPENING REMARKS
9:00 AM – KEYNOTE presented by MNP
JOHN F.T. SCOTT
Where is the Fickle Consumer Going Now?
Lessons and Opportunities as we Emerge from the Pandemic
10:00 AM – BREAK
10:30 – 12:00 PM – ECONOMIC UPDATES PRESENTED BY MNP
10:30 AM
Canfax Canadian and International Cattle Market Update
The cattle industry has been hit by a processing plant fire, a pandemic, and cybersecurity issues all in the last couple years. This has happened while North American beef production has been record large, and beef demand has been outstanding. Unfortunately, it has been a challenging couple years for producers. These supply chain disruptions combined with much higher grain prices and a stronger Canadian dollar has meant producers have been waiting for better times. Are those better times coming…..
FEATURING:
Brian Perillat, Manager/Senior Anaylst, CanFax
11:00 AM
Moving Beyond COVID-19 in 2021 presented by BMO
Aaron Goertzen, Senior Economist at BMO Capital Markets, discusses the implications of the economic reopening and presents the outlook for growth, inflation, interest rates, and the Canadian dollar.
FEATURING:
Aaron Goertzen, Senior Economist at BMO Capital Markets
12:00 PM – LUNCH FEATURE
Behind the Lens at the CBCE Presented by John Deere
What do you get when you bring two chefs and a team of photographers and videographers together? Over 300 delicious, mouth watering beef recipe images and hands in pans instructional cooking videos. Join Mathieu Pare and Cameron Pappel of the Canadian Beef Centre of Excellence as they walk us through how the team has created inspiring content to enhance the Canadian beef experience.
FEATURING:
Mathieu Paré – Exec. Dir., CBCE
Cameron Pappel – Culinary and Innovation Manager, CBCE
1:15 PM – COURSE
#2 – Ranching for Profit presents The 3 Secrets For Increasing Profit
In this workshop you will …
See if your ranch is really a business or just a low-paying, physically-demanding job.
Learn the difference between economics and finance and why economics always comes first.
Discover the only three things that any business can do to increase profit.
Use the RFP benchmarks to find out which one applies to your business right now.
1:15 PM – BREAKOUT SESSION
She Looks Like Me
'#She Looks Like Me' is a new campaign created by the Meat Business Women organization which showcases the breadth of roles and career options that exist in the global meat supply chain and features women who work in the global meat industry. Laura Ryan, Chair of Meat Business Women organization has worked in the meat industry for more than a decade and she was struck by the limited number of females in the industry, and at board level in particular. Join us for this inspiring breakout session as Laura talks about why and how she created this national and global organization. It's a must attend session for all of the dedicated and passionate women who work everyday in the Canadian beef industry.
FEATURING:
Laura Ryan, Chief Executive Officer, Lavenpark and founder and global Chair of Meat Business Women
3:15 – THANK YOU FOR ATTENDING CBIC 2021!